TRIBES
A unique game for six-sided dice.
Simulate small tribes trying to survive and then produce art. A game is quick and never the same as the last one.
Rules changes, clarifications, and game variants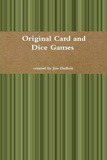 Now available in a book of seven original card and dice games for
$10.99
at
Lulu.com
, or
$2.99
on the Kindle
.
Tribes is also available as a complete game for
$17.99
at the
Gamecrafter
.
Or as a PDF download for
$1.99
at
DriveThruRPG
.